Now even the Tyrolean newspaper has picked up on the issue.
Mrs. Warenski writes:
"The law stipulates that people with disabilities are allowed to take their assistance dogs anywhere. In Tyrol not everyone abides by these regulations."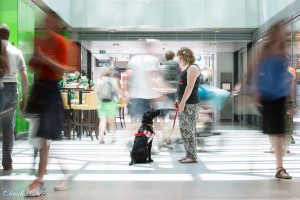 Innsbruck, Vienna
The Labrador-Retriever Ylvi deserves more than one treat. Since the end of 2015 she has been Austria's first certificated assistance dog, who stands by the side of a human with a post traumatic disorder in all kinds of situations. Ylvi makes sure that the Tyrolean K., who was sexually abused by two family members until the twenty-first year of her life, dares to venture out of her own four walls. Ylvi blocks people who get too close to K., because this could induce panic attacks. But she is also able to retrieve medication in emergency situations or wake up K. from nightmares through a gentle nudge.
Trainer Alexandra Schweiger is proud of K. and her dog: "I am really happy, that now it is official that Ylvi is a state approved assistance dog. Of course the exam was very exciting", Schweiger, who works using the method by Martin Rütter, remembers. Even if everybody could be pleased, out in the field there are frequently big obstacles to overcome. "I have massive problems in a Tyrolean grocery store. In different stores, which belong to this group, they wanted to expel us", says a disappointed K. Even though the management told its branches in written form that assistance dogs are allowed to go inside of grocery stores by law, the employees don't abide by the agreement.
"I had to argue for a long time and explain extensively why I depend on an assistance dog", says K.
The Tyrolean also explained to the employees that Ylvi wears the official characteristic cover "and I also have no problem with showing them my certificate of disability, in which Ylvi is registered."
Alois Schellhorn, manager of the trading division at the Tyrolean Federal Economic Chamber, cannot imagine that people with disabilities and their assistant dogs have problems in Tyrol. "That's a non-issue that there should be legal entitlement."
Also at the hospital K. experienced similar events. Only after multiple pleas Ylvi was allowed to stay with her. This shall change as soon as possible, promises the media spokesman of the Tyrolean Clinics Johannes Schwamberger. "We are just about to adapt the regulations of a public institution. Specifically the currently existing part about the permitted entrainment is getting expanded by assistant dogs". Karl Weissenbacher of the Messerli research institute of the Vetmed University in Vienna, who is responsible for the inspection of assistant dogs throughout Austria, knows that the way to recognition is still a long one. "There's still a lot in a sorry state."
Source: Tiroler Tageszeitung